DYOM Website
is a new updated dyom.gtagames.nl website with new features and other stuff that was announced on October 16, 2011.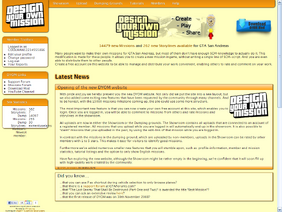 Changes
A lot of changes were made to improve new Website.
Profile
Website changed a lot! It's now possible to register to the Website and upload new missions. You can change some profile information like: Avatar, Description, Location, Birthdate, Respect List and gtaforums account name.
Missions
Uploading a mission is almost the same. Captcha was removed and new feature "Income Language" was added. You can now tell what language the mission is, but English is the only language that is added so far. Also, rating feature is added, now all users can rate others' missions. Downloading, Upload Statistics and mission Statistics were improved.
History
On Summer, leoncj, AznKei, Secronom President and Chimpso won the DYOM Awards. As a reward, they became the moderators of new Website which it was secretly updated, but not announced until the October 16, 2011.[1]
Over 1600
As of April 1st, DYOM website has over 1600 members.
Blueprints
On August 14, 2012, Dutchy introduced the website with the new feature called "Blueprints". The Blueprint feature shows you all objectives that are added in a mission. Mission packs and Story-lines don't work, only single missions do.
Trailers and Tutorials
On September 10, 2012, PatrickW announced a new features for the website: Tutorials, BB-codes, Reports and videos.
Videos
You can upload a trailer for EVERY mission on the website, but it has to be approved by either the staff or the maker of the mission first. A trailer can also be rated by other members. People can view the trailer on the userpage of the maker of the trailer, on the page of the mission and in the list of trailers (Showroom > trailers). This is a great way to attract more users or to help other (good) missions. It has to be a Youtube video, and you can add it by going to a mission and fill in the small form about the trailer ("Propose your own trailer of this mission"). Trailers are also shown in the hall of fame.
Tutorials
There was already a section at the DYOM website with tutorials. This section was (and is) devided into two parts: the text tutorials and the video tutorials. However, it was a bit outdated. I've seen many good tutorials which weren't on the site. The big difference is that YOU can add your own tutorials now, both text and video's. It will be shown in your profile and in the list of tutorials. Your tutorials can also be rated by other members. Tutorials are highly appreciated by other members and by the DYOM staff. It shows that you are a good designer and really want to help other users. Tutorials are also shown in the hall of fame.
References